JackpotCity Casino Loyalty Club
You've probably heard the expression that loyalty goes a long way? Well, it most certainly does with JackpotCity Casino. This is an online casino site which offers you up to $1,600 in welcome bonuses, regular prize-packed promotions, match deposit bonuses, and a broad array of loyalty rewards and VIP rewards whilst you play at their domain. The Jackpot City Casino Loyalty Club is open to all. But how do JackpotCity loyalty points work? Let's find out.
How do loyalty bonuses work?
Players can earn loyalty points at JackpotCity. All they must do is place wagers on their favourite online casino games and those points will quickly accumulate. Players can pocket cashback for those loyalty points, once enough have been accumulated. At present, the JackpotCity Casino loyalty bonus can dish out cash back at a rate of $1 for every 200 points that a player earns playing games over at the online casino.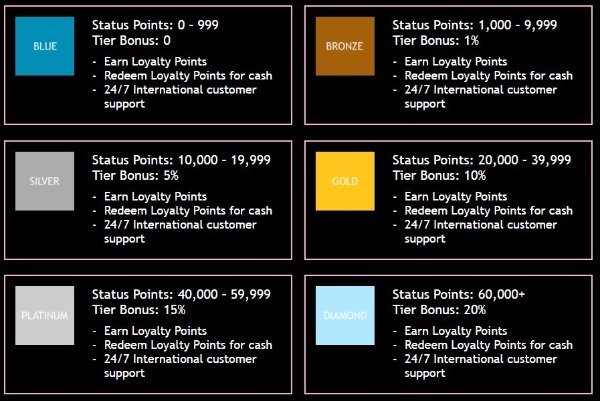 VIP deals
As well as the bonus loyalty points, the JackpotCity Casino Loyalty Club also offers tier loyalty points. These are accumulated in the same way but can see you climb a loyalty ladder. The more points you get, the higher your rank, and thus, the better your rewards become. Players can work their way through Blue, Bronze, Silver, Gold, Platinum, and Diamond membership levels, to pocket extra goodies along the way. Such perks of being a member of the Jackpot City Casino Loyalty Club include the ability to redeem loyalty points for greater sums of cash, 24/7 international supper, and increasing tier bonuses for every level you reach.
Open to all
The Loyalty Club is open to all members of the online casino site, and all newbies are automatically enrolled at the Blue Level to start off with. Earn your loyalty points and pocket cashback by playing games at JackpotCity Casino.